A new The Sheffield Guide video! This time we take a look at one of Sheffield's true hidden gems; Stoneface Creative's woodland sculpture park at Storrs Wood.
Stoneface Creative's secret sculpture park
The Sheffield Guide was invited to a Secret Sculpture Park; Stoneface Creative's woodland gallery at Storrs Wood. One of Sheffield's true hidden gems; an incredible woodland walk featuring the very best of sculptor Andrew Vickers' amazing artwork.
Stoneface Creative is made up of artist Andrew Vickers and lately 'Son of Stoneface' Tom.
Their stunning 10-acre woodland base acts as a source of inspiration. Likewise, it is somewhere for some of the amazing creations to reside, amongst beautiful natural surroundings.
Originally a dry-stone waller by trade, Andrew quickly found a natural talent with creating amazing sculptures.
"In all the walls I ever took down and rebuilt, I never found a signature of who'd been there before me. I was thinking it would be really nice to know who had done this wall.


"So I went home, took a piece of stone with me, and I carved a really basic face into the stone and put it in the wall. So I became Stoneface. Andrew Vickers disappeared and Stoneface appeared!"Andrew Vickers
Stoneface Creative at Storrs Wood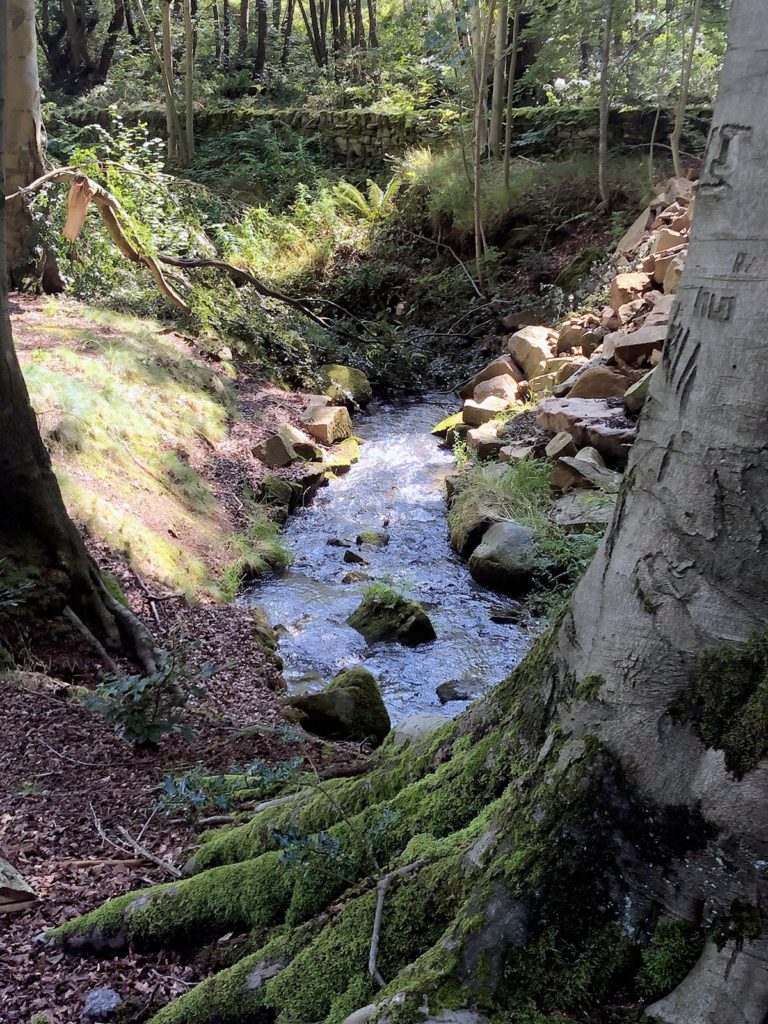 Andrew invited me to Storrs Wood and gave me a tour. The artist proudly told me about some of the incredible sculptures he has created and placed in the woodland. Every piece has an amazing story behind it.
Each month Stoneface Creative open up Storrs Wood to the public for a weekend. Open days are full of tours and activities for young and old; and often include visits from other artists and makers.
If you are lucky Andrew may even talk you through some of the amazing pieces on display.
Beautiful Memorials at Stoneface Creative
Just off the adjacent Storrs Lane is a poignant memorial area for war victims.
"It is called Remorse. The idea is that someone gets up in a morning and you don't say 'I love you' to them. Then they are gone, and they don't come back that night and you've missed your chance to say 'I love you'.


"It's a war memorial, but it applies to every day life"Andrew Vickers
There's also an amazing memorial wall for victims of the Great Sheffield Flood at Storrs Wood. The sculptor is extending this up the side of the valley — right in the flood's devastating path.
Andrew even created a tribute to one of his favourite musicians, this time sculpting from unconventional materials; recycled DVDs. The 'Starman' sculpture — dedicated to David Bowie — stands proud on the Storrs Wood hillside.
Experiments with other materials
DVDs aren't the only unconventional material you might see sculpted into something beautiful at Storrs Wood – Andrew is prolific and just can't stop creating, so he recycles many different things into pieces including bronze, steel, wood and even old cement mixers!
But as the name suggests, Stoneface mainly utilises various stones for his work. Much of it is reclaimed; saved from just becoming landfill and so turned into fantastic artwork — either for commissions or to be placed in the woodland.
A Hidden Gem
What comes over when speaking to Andrew other than his incredible passion for his art and work. He has a genuine love and incredible bond with Storrs Wood.
And now you can share in that bond and explore Storrs Wood – one of Sheffield's true hidden gems – with Stoneface's regular open days.
The land is even available for unique events, weddings, even special outdoor cinema screenings and more.
---
Discover the very best of the Steel City with The Sheffield Guide Newsletter!
Sign up now to receive occasional updates from The Sheffield Guide. All the latest Steel City information direct to your inbox!
Free to subscribe. No-spam guarantee. Unsubscribe at any time.
---