Sheffield is full of many varieties of amazing independent food, but sometimes you just want a burger. Where should you go to experience the very best Burgers in the city? Here's The Sheffield Guide to the top five places to eat some meaty goodness…
The very best burgers in Sheffield
Burgers are pretty much ubiquitous; you can find them in most restaurants and pubs. But quality varies wildly.
I'm a huge fan of burgers done right and consider myself an expert on the subject! Whilst many people look at a burger and think "that's just a burger," I know there are several levels of burger. From the flavours of a classic cheeseburger to the amazing textures of a smash burger; from a splash of ketchup to a perfectly balanced burger sauce, there are huge differences to be found if you look for them.
Whilst there is a place for cheap fast food chain burgers you won't find any Big Macs or Whoppers on this list. Here, I'm looking at Sheffield's independents that largely specialise in the art of making extremely good burgers. I'm also looking at primarily beef burgers too, so chicken burgers are out (for now… maybe that is a future list!).
What makes the best burger in Sheffield?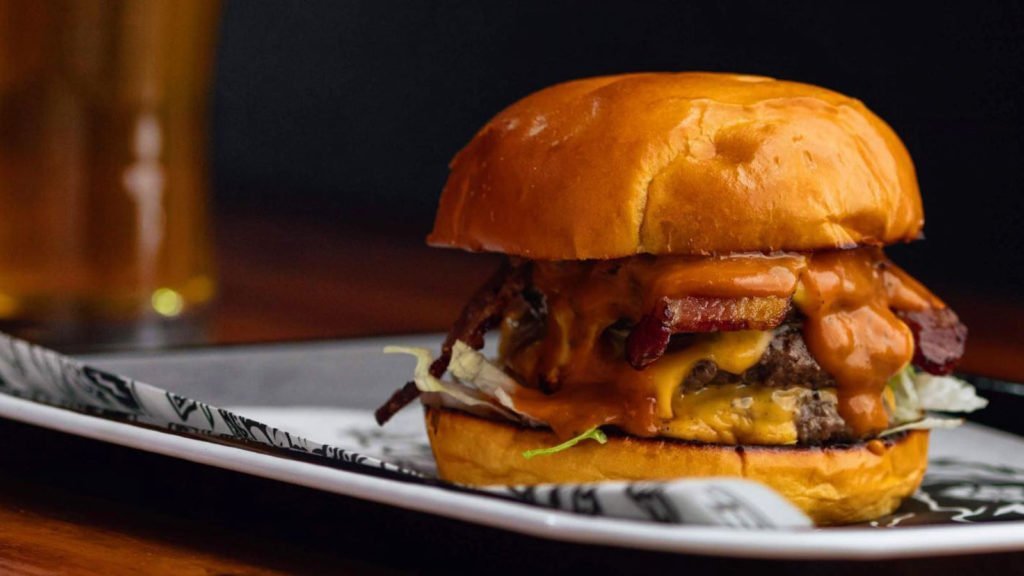 Of course the meat counts most… fresh beef patties with just the right amount of seasoning and enough fat content to keep it nice and juicy after cooking are essential.
Texture counts a great deal, so smash burgers (these generally start out as a ball of meat, which is then 'smashed'/squished down flat onto a hot griddle, forming an uneven surface that creates a nice tasty 'crust' to the outer edges) tend to do well over pre-formed patties, for me. Toppings like fresh lettuce and diced onions assist with creating a nice crunch to offset the meat's juices, melted cheese and a soft bun.
Cheese should be nice and melty, creating an almost creamy coating to the burger patty. In terms of toppings I tend to like the classic lettuce, tomato, diced onion, gherkin combination, but let's face it, there's a huge variety of toppings that can make — or break — a burger so I've tried various mixtures at each outlet.
One of the most important factors in the overall flavour of a decent burger though is the sauce. A good burger sauce will balance out the saltiness of the seasoned meat, the sweetness of accompanying tomatoes and the sharpness of toppings like pickled gherkins and bring everything together into a delicious combination.
So, without further ado — in reverse order — here are the definitive top five burger places in Sheffield!
---
5. Twisted Burger Company (Triple Point Brewery + Bar, Shoreham Street)
You might have experienced Twisted Burger Company in its previous home of The Harley, where the burgers and sides made an excellent accompaniment to the live music gigs and DJs on offer there. Twisted Burger Co also had a small diner at Broomhill for a short while, as well as short residencies in other bars as far afield as Doncaster.
It has all been refined over the years, down to this point of residency at Triple Point on Shoreham Street. All the classics that made Twisted Burger Company locally famous are still there, with the edgy names and alternative menu art by Tom J Newell retained.
The burgers aren't the biggest of this list, with the beef patties themselves especially feeling a little on the small side. But they do pack a punch with regards to flavour. Toppings are well balanced and it is all encased in a nice soft brioche bun.
The main 'TBC Classics' on the menu may seem a little over the top in terms of additional contents (Pulled Pork, Brisket, etc) but the balance of flavours always ends up on just the right side of extravagant.
Burger purists will probably go for the 'Supersize Me Burger'; a triple-decker of patties, American cheese and streaky bacon. The 'Techno Burger Sauce' is the thing that elevates most of TBC's burgers though and there's plenty of it on this stacked option.
I know some baulk a little at the prices (£12.50 for the above Supersize Me option, complete with fries), but you'll not find many decent cheaper places to eat-in at this quality.
The very best option on the menu though is indeed the 'budget' option. The 'Mixtape Meal Deal' is available between 12-5pm most days and is essentially a 'build-your-own-burger' style offer. For a round fiver you can get a single patty with your choice of topping, sauce and regular fries. Various other extras, such as more toppings, and additional patties can be thrown in for a small extra cost on top of that.
Does it all feel a little gimmicky and perhaps even dated and out-of-place now? Well, yes… (especially some of the rotating specials that feel like the burgers have been crafted to fit the latest edgy name they've come up with) — but just try and stop me having my fix of 'Pig Daddy Kane' (Double burger with American cheese, pulled pork, BBQ sauce and chorizo & apple jam) whenever it is calling to me.
And don't forget… you get to sample Triple Point's range of in-house brewed beers whist chowing down on the burger goodness!
---
4. Firepit Rocks (West Street)
When it first opened Firepit was hands-down the best smokehouse/BBQ place in Sheffield (yes, better than Smoke and Reds). I think it struggled a little in its original guise so has evolved somewhat to pull in the crowds. It feels a little of a 'throw everything at it' kind of joint: sports bar, restaurant, cocktail bar, music place…
A tweak of the name and Firepit Rocks now it calls itself a 'Dive Bar'. Whilst I'm usually diving into the "American Dream" (a platter of smoked babyback ribs, wings, 8hr smoked brisket, 6hr smoked pulled pork), it is the burgers we're here to talk about today.
Burgers here are handmade on site and have a nice, juicy girth to them. You're hard pushed to find a 'standard' cheeseburger on offer though; the closest you'll come is the delicious £10 Cowboy burger (double cheeseburger, 'pig bits', BBQ sauce, onions, salad).
Other favourite options on the menu include the 'Brekkie' (double cheeseburger, sausage, hash browns, egg, sauce, salad), 'Californication' (burger, halloumi, chilli, tequila cheese sauce, onion, tomato) and 'War Pigs' (burger, pulled pork, pop chips, lettuce, onion, tomato).
Again, the toppings can first appear to be overly excessive but the addition of the smokey flavours in particular really do add something.
Sauces though seem fairly standard, often just a BBQ or Buffalo. Whilst they compliment some of the flavours (depending on your choice of burger), there isn't that bite you get from a pickle-and-vinegar based traditional burger sauce. But that is a mild criticism considering the tastiness on offer here.
At around a tenner, the burgers are a reasonable price for an independent dine-in place too. Add £3.50 for some fries (or a fiver+ for some tasty loaded fries). Plus, there's literally no end of amazing sides to go with whichever burger you choose — wings, nachos, skewers, burnt ends… seriously, the choice here is something else!
They absolutely need to reinstate the Frickles (fried pickles) though…
---
3. Smokin Bull Burger & Grill (Leopold Street)
Next on our list of the Best Burgers in Sheffield is Smokin Bull. If it is thick, juicy burgers you are looking for, Smokin Bull is your friend!
The classic burger is extremely reasonable at just £7.95 (plus 50p for cheese). For that you get a delicious beef patty, lettuce, ketchup, smokey mayo and pickles. As simple and tasty as it gets!
Should you want to go crazy though, you really can. Like Twisted Burger Company above, there's plenty of those 'amusing' burger names to look out for. A 'Donner Summer' will get you a burger patty topped with homemade döner meat and all the trimmings. 'Howard T Duck' will get you a topping of crispy fried duck, spring onions and hoisin sauce!
But if you're feeling really adventurous, the 'Notorious PIG' (£13.95) is for you: the burger comes topped with pulled pork, bacon, bacon jam, applewood smoked cheddar, sundried tomatoes and more — delivered to your table under a domed glass cloche filled with smoke to add even more flavour and aroma.
There's always different specials on offer too, so check the boards if you want to try more quirkiness! Additionally, this is one of the few places in the city you'll find Sheffield's own Khoo's Hot Sauce on offer — a favourite of mine and a must try for heat lovers.
All burgers come with a portion of fries, or you can upgrade to loaded fries for a small surcharge. There's a decent amount of other sides on offer too from wings to mac and cheese… oh, and you HAVE to try the Frickles!
---
2. Saw Grinders Union (Globe Works, Kelham Island)
I can't state strongly enough how close Saw Grinders Union came to the top spot. Honestly, it was a tough pick. By rights it should win solely for the incredible American Cheese Sauce Dip side order you can add, but as this is a list for the best burgers in Sheffield I had to concentrate on the overall aspect.
Saw Grinders Union is one of the few places in the city that does a proper smash burger, and they do it very well. The texture achieved on the patties really elevates the overall thing.
Another thing they do right is that is is simple and easy. Yes, there's something to be said for all the 'trendy' burgers above topped with everything and anything, but Saw Grinders Union leave all the choice to you. Pick your burger, add whatever toppings you want from a decent list, add your fries, ADD THE CHEESE SAUCE DIP (did I mention how good it is?).
Or just choose 'classic' toppings and your burger will come with the pre-requisite burger sauce, lettuce, tomato and onions. No gimmicks. Simple.
The burger itself is mouth-wateringly good. At £8.25 for a cheeseburger it is also one of the best value on this list. Add £3.50 for twice-cooked, skin on fries and don't forget the £2.95 for the must-have American Cheese Sauce (then, inevitably, another £3.50 for more even more fries to dip in the addictive cheese sauce).
And don't be shy either — grab your burger and dunk it in that cheese dip. Amazing.
So, if this description of Saw Grinders Union only just makes #2 on this list the number one must be exceptional, right? RIGHT.
---
1. Unit Sheffield (Headford Street)
And here it is… the proclaimed Best Burger Place in Sheffield! Unit on Headford Street.
Such an unassuming location, just on the edge of the city centre and off the beaten track generally. You find Unit by locating the giant Kid Acne 'That's The Spirit' street art on the side of the building. Head closer and you'll see he also did the logo for this place too.
Inside has the feel and atmosphere of an American Diner. Booths, wooden tables, neon tube lights. The perfect environment to enjoy a beautiful burger.
Two big things stand out about Unit: 1. It is Halal, so accessible to those who follow halal diets. 2. Similarly, it is alcohol free. That's not a problem though as the drinks on offer fit the experience: glass-bottled Coca Cola (its always better out of a glass bottle, right?) or a selection of Mexican Soda Jarritos. There's also a variety of freshly made shakes on offer.
So what about the burgers… large, plump, juicy patties encased in a bun that has been toasted on the grill. All burgers come with the basics of lettuce, tomatoes and onions with sauces depending on which other fillings you choose.
A standard cheeseburger comes with the above and additional mayo and American cheese (obviously). A specific burger sauce is missing, but but you can add that for a small extra charge. At just £7.95, complete with fries, it is the best value option on this whole list.
Of course you can get more adventurous though; the High Steaks Burger (£10.95) comes with brisket shavings, BBQ sauce and American cheese, the Pizza Burger (£9.95) comes with mozzarella cheese, pepperoni and oregano and the titular Unit Burger (£9.45) — my usual choice — comes with turkey bacon, American cheese, gherkins and a really nice Unit burger sauce. All come with fries, making the prices extremely reasonable. Feel free to add other toppings for an extra charge too.
If you're feeling really crazy, maybe go for 'THE DESTROYER' (£18): 2 beef patties, a heap of brisket, beef mince, fried mushrooms, onions, cheesy nachos and spring onions!
There's an option to upgrade your fries (curly fries, sweet potato or a 'dutch' mixture) and plenty of sides to be had. I recommend the Korean Wings for amazing flavour, or the 'Suicide' Wings for those who like really, REALLY spicy hot food.
When you've done there's loads of really nice desserts on offer for those who can fit them in. And on your way out you get to sign the chalk board wall!
It was a close run thing, but that's my choice for the top five best burger joints in Sheffield. What's your favourite? Have your say in the comments!
---
Discover the very best of the Steel City with The Sheffield Guide Newsletter!
Sign up now to receive occasional updates from The Sheffield Guide. All the latest Steel City information direct to your inbox!
Free to subscribe. No-spam guarantee. Unsubscribe at any time.
---