A number of locations have been specially lit up across Sheffield to spread festive cheer following a difficult year.
Christmas Lights Spread Across Sheffield
After a difficult year full of restrictions and lockdowns it has been difficult to carry out our normal Christmas festivities in Sheffield.
We're all missing the brilliant Christmas Markets on Fargate, as well as the special Alpine-style pop-up bars in the city centre and more.
In recognition of this, Sheffield City Council are spreading the Christmas cheer with a series of pop-up light displays.
"I know that this Christmas we won't be celebrating in the usual way, but we still have much to be grateful for and plenty to get excited about. I hope everyone in the city makes the most of the little things this year and shares in the festive steel spirit that shines so brightly in Sheffield."Julie Dore, Leader of Sheffield City Council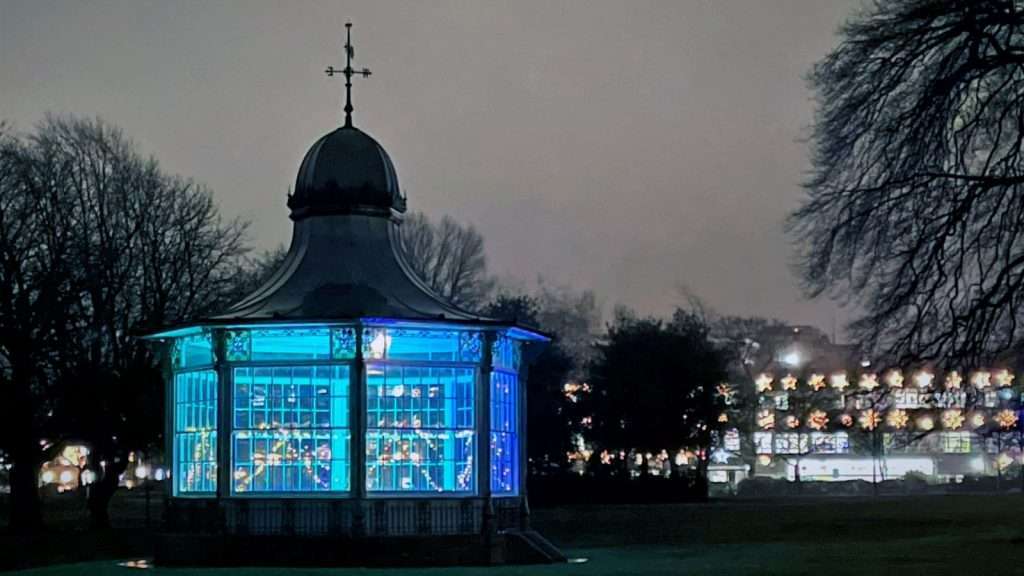 Special Lights at various Sheffield locations
As well as the impressive Christmas Lights in the main Sheffield City Centre thoroughfares, Sheffield City Council have additionally lit up a series of locations across the city.
Landmarks such as Weston Park's Bandstand and the Glass Pavilions at the Botanical Gardens will feature special lighting throughout the festive season.
To recognise the important part Sheffield's parks play within our communities — and especially during the ongoing pandemic — various trees, entrances and buildings have also been highlighted in parks across the city.
"Christmas is a time when naturally we reflect on the year we've had and feel gratitude for the many things we all take for granted. This year those values are more important than ever and as I look back at the remarkable things Sheffielders have achieved and endured I am moved with pride and appreciation.

"We have seen valiant efforts from key workers across all sectors, true grit, resilience and innovation from our independent businesses, care and thoughtfulness at the heart of our communities and patience and understanding from our residents who have all played a very important part in tackling the challenges Covid has brought us.

"We still have some way to go and yet more challenges to overcome before we can resume normality, but after leading this great city for 10 years I know that in true Sheffield style we will come through this stronger than ever. I want to take this, my final opportunity, to wish each and every one of you a very happy and healthy Christmas and the very best for the new year ahead."Julie Dore, Leader of Sheffield City Council
Lasers in the Sheffield sky to thank key workers
Separately to the Council's illuminations, a group called Laser V will be lighting up Sheffield's skies on the evening of 14 December.
Laser V, put together by community groups such as Sheffield Sea Cadets, aims to promote the Sheffield Hospitals Charity, the Green Estate CIC and to say a big thank you to the NHS and Key Workers.
The lasers will be visible from 5:30pm-9:30pm on 14 December (weather permitting). Lights should be viewable from most areas of Sheffield
"2020 has been a year of great upheaval. If you are able, give a little gift to help people near and far. This year people have been exceptional in their caring and kindness — let's all try keep it going through 2021 and beyond.

"Laser V is for your enjoyment and to say a big thanks to all the marvellous people who work day in, day out, helping us all to live easier and better lives.

"We would like to say thanks to the medical staff, volunteers, waste processing operatives, volunteers, key workers and all the often unsung heroes who have been, and those who continue, working to help us through difficult and challenging times."Laser V Statement
---
Discover the very best of the Steel City with The Sheffield Guide Newsletter!
Sign up now to receive occasional updates from The Sheffield Guide. All the latest Steel City information direct to your inbox!
Free to subscribe. No-spam guarantee. Unsubscribe at any time.
---