Connecting Sheffield will create an Active Travel Neighbourhood linking Kelham Island/Neepsend with the City Centre.
Kelham Island's Active Neighbourhood Plans
Kelham Island and Neepsend will become 'Active Neighbourhoods' under newly revealed plans for the next stage of the 'Connecting Sheffield' project.
Connecting Sheffield proposals will create Active Neighbourhoods that are linked through Active Travel corridors.
Active Travel includes healthy, sustainable means of getting around — including walking and cycling, with an aim to also reduce unnecessary shorter car journeys and improve air quality.
Additionally, areas are made safer and public transport routes are revised to make them quicker and more direct.
Funding for the project is being provided by the Government through the Department for Transport's Transforming Cities Fund.
Before and after: A view of the proposals at West Bar roundabout. Images: Sheffield City Council
"Neepsend and Kelham are much loved areas, with their industrial background and mix of great shops, bars and restaurants. Stopping unnecessary journeys through the area will help to establish the area as a safer, healthier, and vibrant place to live, work and visit.

"Some of the proposed changes have already been in place through the last few months as part of emergency social distancing and active travel measures, and we have seen a positive response to them so far. I'd like to encourage residents and visitors to the area to feedback on what is and isn't working so that we can use this information to help shape the permanent plans.Cllr Julie Grocutt, Cabinet Member for Transport and Development
Some of the main proposals are outlined below, full details can be access, and commented on, via Sheffield City Council's 'Connecting Sheffield' consultation website.
Improved junctions, segregated cycling and walking routes
Among the improvements are a number of upgraded junctions, segregated cycling and walking routes throughout the area.
Lower traffic volumes will in-turn make it easier and much more attractive to walk and cycle in the area. Extra space will allow for a safer environment and additional uses such as pavement cafes and events.
Additional landscaping and new green spaces will also be introduced along the routes.
Some of the proposed routes include:
A new signalised junction at the crossroads between Neepsend Lane and Rutland Road will include specific cycle crossings.
Wider footpaths and cycle parking will be included in a revised junction at Alma Street and Green Lane.
Dedicated signal-controlled cycle crossings will also be added across the A61 Inner Ring Road, connecting a new landscaped area at the end of Russell Street to Bower Springs and Gibraltar Street.
Additionally, a new 'Dutch-style' roundabout is proposed at West Bar with cyclists and pedestrians given priority when crossing junctions.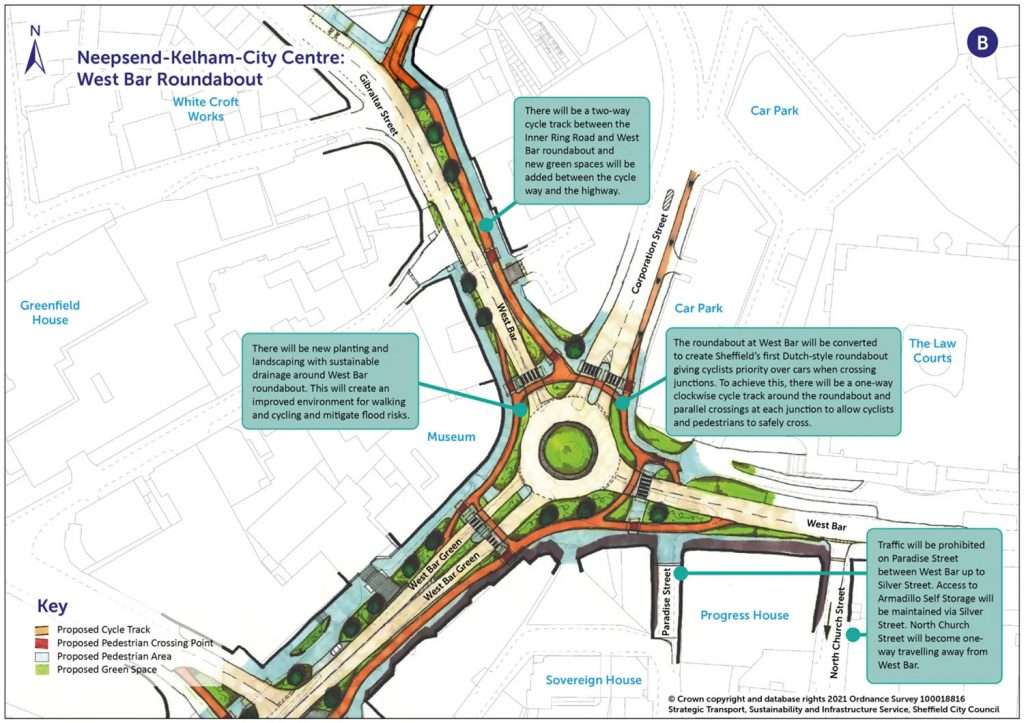 Such roundabouts have proven extremely effective and popular in other areas of the UK.
"It is fantastic to see the plans for this ambitious scheme being shared. Sheffield City Council have done a brilliant job to include their first Dutch-style roundabout and develop connected routes from the trial scheme that was introduced at Kelham Island last year.

"Connected and continuous infrastructure, with priority crossings for people walking and cycling, ensure that journeys via active modes no longer have to suffer the usual delay and inconvenience, and are crucial to enabling people to leave their cars behind for short, everyday journeys."Dame Sarah Storey, Sheffield City Region Active Travel Commissioner
Reduction of through-traffic around Kelham Island and Neepsend
A reduction of road traffic in the concerned area is part of the proposals — made possible by road closures at specific points to prevent cars taking short cuts through the area.
Access will remain for residents, businesses, deliveries and visitors with specific consideration given to disabled people living in or visiting the area.
The main road closures would be at the Ball Street bridge and Alma Street, reflecting recent changes made to create a Low Traffic Neighbourhood during the pandemic.
Green Lane will become one-way from the junction with Cornish Street towards the Inner Ring Road. Additional speed humps will be placed around the area.
Re-routing of the B6074 at Burton Road to create a bus gate
The B6074 is planned to be re-routed away from part of it's current Burton Road path. Instead, it will run one-way up Hicks Street and across Rutland Road along Boyland Street before rejoining at Neepsend Lane.
In the opposite direction, the B6074 would return one-way along Platt Street, rejoining its current path at Harvest Lane.
Burton Road will then become bus-gated between the junction of Neepsend Lane/Rutland Road and the junction with Percy Street.
Connecting Kelham Island to Sheffield City Centre
From West Bar roundabout the proposals show a continuation of the scheme up Tenter Street and on to Broad Lane.
At Townhead Street a newly styled T-junction would see the cycle route branching off to the City Centre to connect to the cycle paths being introduced from Leopold Street as part of the recent City Centre Connecting Sheffield consultation.
At the opposite end of the whole scheme, high-quality continuous walking routes will also connect Burngreave and Pitsmoor to Kelham Island and Neepsend via Spital Hill and Chatham Street/Rock Street.
Uninterrupted walking routes across the proposals would see footpaths continuing at the same height across junctions, creating a raised section for cars to travel through to exit junctions. This will slow down traffic and enhance safety.
"Improving transport connectivity across South Yorkshire is crucial to our future prosperity, and has been one of my top priorities since becoming Mayor.

"After securing £166m in Transforming Cities Fund investment for the region, I'm pleased that we are enabling people to make more journeys on foot and by bike, to and from work and leisure. This scheme is a great example of how we can create more sustainable and active travel routes across Sheffield.

"This will not only benefit the health of our residents, but also help address the climate crisis. I'm determined to build a stronger, greener and fairer future for South Yorkshire and investment in our better public transport is critical to this mission."Dan Jarvis, Mayor of the Sheffield City Region
Have your say on the Connecting Sheffield Active Neighbourhood Proposals
The Connecting Sheffield scheme aims to adapt the city's infrastructure for the future. Main aims are to make walking, cycling and public transport the primary method of transport for most local journeys including commuting to work and meeting friends.
Six connected schemes are proposed as part of the wider plans, to connect various areas of the city in a sustainable way. A previous consultation on the programme relating to the City Centre portion of the plans recently closed on 7th January.
Sheffield City Council are now conducting a consultation on the Kelham Island and Neepsend portion of the proposals.
Residents, businesses and visitors can view the full proposal and supporting documents — plus make comments — at the consultation website.
---
Discover the very best of the Steel City with The Sheffield Guide Newsletter!
Sign up now to receive occasional updates from The Sheffield Guide. All the latest Steel City information direct to your inbox!
Free to subscribe. No-spam guarantee. Unsubscribe at any time.