If you're looking for some inspiration for meaningful local Birthday or Christmas presents (or any other occasions!), we've put together some Sheffield-themed Gift ideas from The Sheffield Guide!
Sheffield Gift Ideas
The Sheffield Guide produces a large range of exclusive products featuring art and designs inspired by our great city, its people and our rich history. Each design aims to be evocative to Sheffielders and ex-pats, offering a selection of unique and meaningful gifts… or special treats for yourself!
Below I've put together some gift ideas for your Steel City-loving friends and family. Each section highlights some of our current collections, with a brief description and examples of popular products within that collection. Click the link below the examples to view the full range at our online shop!
There really is something for everyone, young or old. We thank you in advance for any purchase you make; it really helps us out at this difficult time for small businesses like ours!
---
The Sheffield Icons Collection
Our exclusive Sheffield Icons collection features a range of items adorned with specially-drawn Art by James of iconic Steel City locations and memories.
Originally released as a collection of Art Prints and Framed Prints the selection was extended by popular demand to include stylish T-Shirts, Hoodies, Mugs, Tote Bags, Face Masks and more!
Featured icons so far include:
– More from The Sheffield Icons Collection –
---
The Made in Sheffield Collection
One of our biggest ranges, the Made in Sheffield Collection features a special motif created for The Sheffield Guide, featuring a central Yorkshire Rose. We have large printed versions and some extra-special embroidered versions across various items, including women's dresses, and a fantastic set of baby and kids products… there really is something for all ages here!
– More from The Made in Sheffield Collection –
---
Legendary Sheffield Pubs and Clubs
Next we take a look at Legendary Sheffield Pubs and Clubs. Some are now long gone, but remain fond memories for past revellers. Whether you were a regular at The Stone House, a party-goer at Roxy Disco or an indie lover at The Limit, there is something for you, or for a perfect Sheffield Gift in this ever-expanding collection…
Featured Legendary Pubs and Clubs so far include:
– More from The Sheffield Pubs & Clubs Collection –
---
The Hole in the Road
The latest Art by James piece is a full depiction of The Hole in the Road, a familiar Sheffield memory, complete with a street view up High Street. Also featured are Walsh's Department Store, Telegraph House and the old Midland Bank (Bankers Draft) building, among others.
Available in A4, A3 and a special giant A2 poster sizing to view even more detail — both framed and unframed.
---
The Coordinates Collection
Our very first collection remains one of our most popular! This stylish typographical design pin-points your favourite city with Sheffield's Coordinates, whilst providing a brief biography of the Steel City.
The T-Shirts in this collection feature the widest range of colours available across our clothing range. Plus there's a selection of colourful women's fit T-Shirts, which have proven popular! We've even noticed the mugs and art prints taking pride-of-place in homes, offices and venues across the city.
– More from The Coordinates Collection –
---
The Greetings from Sheffield Collection
Greetings from Sheffield evokes the 'Large Letter' postcard designs of the 1930s-1950s. Each letter of the word SHEFFIELD contains an image representing a local landmark, whilst the slogan presents 'The Outdoor City'.
The typography was so loved we released a version featuring just the lettering on a T-Shirt and a Mug, whilst the full billboard-style design remains particularly popular on the Art Prints and Organic Tote Bags.
– More from The Greetings from Sheffield Collection –
---
Child of Redgates Collection
Our first foray into very specific Sheffield locations features a real lost treasure; Sheffield's wonderful toy emporium Redgates.
Redgates is fondly remembered by most Sheffielders, having served children of the city for generations before closing their doors in 1988. Now you can show your fondness for this much-missed institution with a collection of T-Shirts, Hoodies, Mugs and Organic Tote Bags — the perfect Sheffield Gift!
– More from The Child of Redgates Collection –
---
Pulp Fiction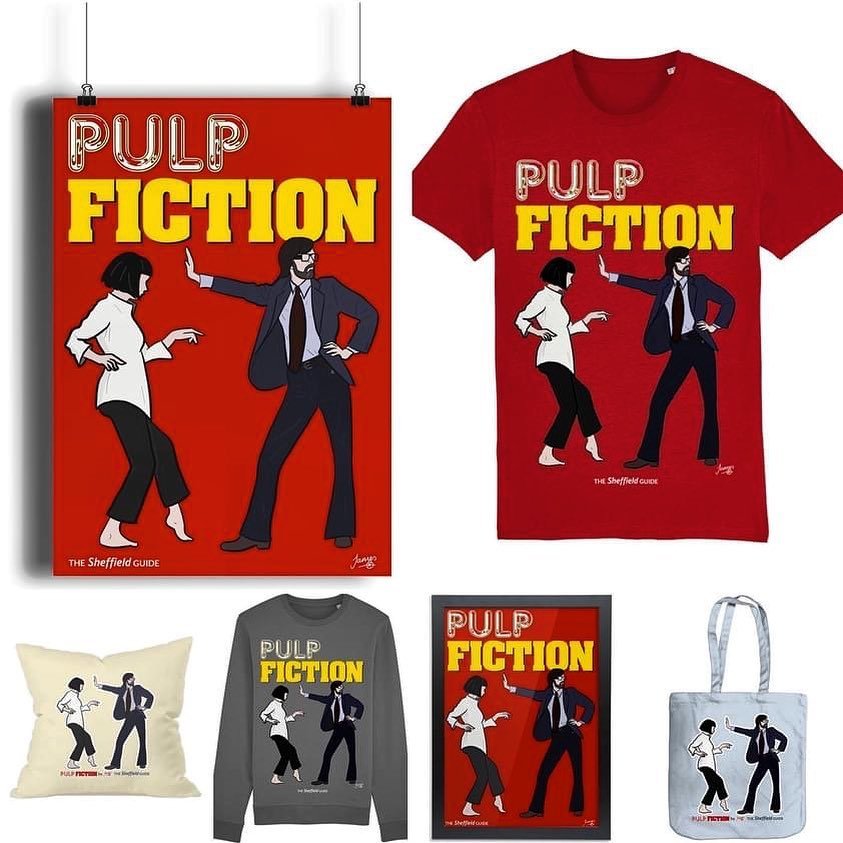 Our Pulp Fiction set mashes up everyone's favourite Sheffield band with the popular Tarantino movie. Jarvis Cocker dancing in that famous scene with Mia Wallace? Yes!
This unique Art by James was produced exclusively for The Sheffield Guide and is one of our best-selling designs across all products!
– More from The Pulp Fiction Collection –
---
Sheffield DNA (Park Hill) Collection
The Sheffield DNA Collection really turns heads with such a unique and clever design, making the perfect Sheffield Gift. An overhead representation of the landmark Park Hill Flats is imagined as a strand of DNA!
The slogan reads "SHEFFIELD: IT'S IN MY DNA".
– More from The Sheffield DNA Collection –
---
Special Limited Collections
We also produce unique limited designs that make perfect gifts. Recent options still available include an homage to Sheffield sons Arctic Monkeys with the "Tranquility: Four out of Five" set, an amusing Ski Village: "The Hottest Slopes in Town" design, an Among Us homage with the Reyt Sus T-Shirt and our Sheffield in Japanese T-Shirts and Hoodies.
Special designs may not be around forever, so we encourage people to grab them whilst they can!
– Browse the Sheffield Shop's full range! –
---
About The Sheffield Guide
The Sheffield Guide began making and selling Sheffield-themed memorabilia and gifts during 2021 in order to survive the Covid-19 pandemic when our usual work dried up!
Each purchase you make goes towards supporting The Sheffield Guide, local content creators, artists and businesses.
Every item is made-to-order, especially for your purchase! Where possible we support the local economy by sourcing our products and services within the Sheffield City Region.
Additionally, we prioritise independent businesses that use ethical practices and sustainable materials where possible. For instance, our base T-Shirts are from a Fair Wear and PETA Certified supplier, made from organic cotton and suitable for vegans.
Where it is has not been possible to source to our high standards within the city region, we utilise businesses as close as possible. Plus, all orders are shipped to you in 100% plastic-free packaging (with the exception of Framed Art Prints, which require bubble wrap for the glass).
Support Local
Whether there is something for you or not in this list, I would like to encourage you to shop local where possible for your gifts.
It has been a terrible couple of years for many small businesses and they need your help now more than ever. Deciding to shop with a local retailer not only helps to keep the local economy going, it could mean the difference between that small business surviving into next year, along with the local jobs that go along with it.
---
Discover the very best of the Steel City with The Sheffield Guide Newsletter!
Sign up now to receive occasional updates from The Sheffield Guide. All the latest Steel City information direct to your inbox!
Free to subscribe. No-spam guarantee. Unsubscribe at any time.
---