As we begin to say goodbye to a strange and difficult year, we look back at your most popular pieces of Sheffield Guide content in 2020.
Your Top Ten from The Sheffield Guide in 2020
What a year! It has been a strange and difficult one for many. Twelve months ago The Sheffield Guide was a small series of YouTube videos, largely made in my spare time, looking at various aspects of the Steel City that I found interesting and hoped others would too.
There was always an ambition to grow that YouTube series, but things intrinsically changed as… well… the world changed. As we all locked down and businesses closed a lot of my regular work dried up so I needed to do something. Ideally, I'd have gone out and made more videos, but shielding put an immediate stop to that. Thus, The Sheffield Guide website was born.
The website has been finding its feet since debuting towards the end of May. It is still evolving and growing. One thing is for sure though; it has been great to see the support offered by our brilliant community — from local Sheffielders, to other small independent businesses, to ex-pats wanting to know what is going on here at their true home and more…
Who would have thought twelve months ago that we'd reach hundreds of thousands of visitors to the website, top over 5000 likes on our facebook page and be featured in a book celebrating Sheffield's Independent Businesses through the pandemic!
So, it feels like a good time to take a look back at what you all seemed to enjoy the best in these formative months. Here is the countdown of the ten most popular items on the website during 2020.
10. New Social Distancing Measures in Sheffield
I guess there is no better indication of the strange year we just experienced than our tenth most popular article explaining how the City Centre changed to accommodate Social Distancing Measures.
READ: New Social Distancing Measures in Sheffield — How To Get Around
---
9. Sheffield Ski Village: An Olympic Dreams Wasteland
Our popular piece on Sheffield's abandoned Ski Village was adapted from an original article I wrote several years ago for the now-defunct We Love Sheffield magazine.
This history of the former attraction contrasts its abandoned state with its incredible popularity when the Ski Village was open (and fostered several Winter Olympic medallists!). There's great video demonstrating the decline from Giannis Kipreos, plus an update on plans to resurrect the site.
READ: Sheffield Ski Village: An Olympic Dreams Wasteland
---
8. The Best Burgers in Sheffield
Burgers. One of the most popular foodstuffs of the city — and one of my favourite foods to eat! This was my overly-indulgent list of what I believe to be the Top 5 Burgers you can find in Sheffield.
Of course, there have been some new places open since the list was formed so maybe an update in needed once I can get out and try them all. For research reasons, of course. Let me know if there are any more foods you'd like me to try and rate for you…
READ: The Best Burgers in Sheffield: A Definitive Top 5 List
---
7. Redgates Toy Shop
This article gives a full history of what is widely regarded as being the world's greatest toy shop; Redgates.
From a watchmaker, to pram dealer to the several-storied toy emporium we all grew to love; This Redgates article constantly gets new shares on social media as people re-live their memories.
This one is another from older article written for a now-defunct magazine. The history has been greatly expanded and serves as a true definitive history of Redgates in Sheffield.
READ: Redgates Toy Shop: A True Sheffield Legend
---
6. Kelham Island Roads Closed for Sheffield's First Low Traffic Neighbourhood
Another reflection of the year that was 2020. This article detailed the changes to Kelham Island, Shalesmoor and Neepsend to create a 'Low Traffic Neighbourhood' at the height of the pandemic.
Some aspects proved controversial, such as a cycle lane taking over part of Shalesmoor's dual carriageway, but plans remain to permanently adopt parts of the Low Traffic Neighbourhood in the area.
READ: Kelham Island Roads Closed for Sheffield's First Low Traffic Neighbourhood [UPDATED]
---
5. Sheffield's Secret Tunnels, Hidden Rivers and 'The Megatron'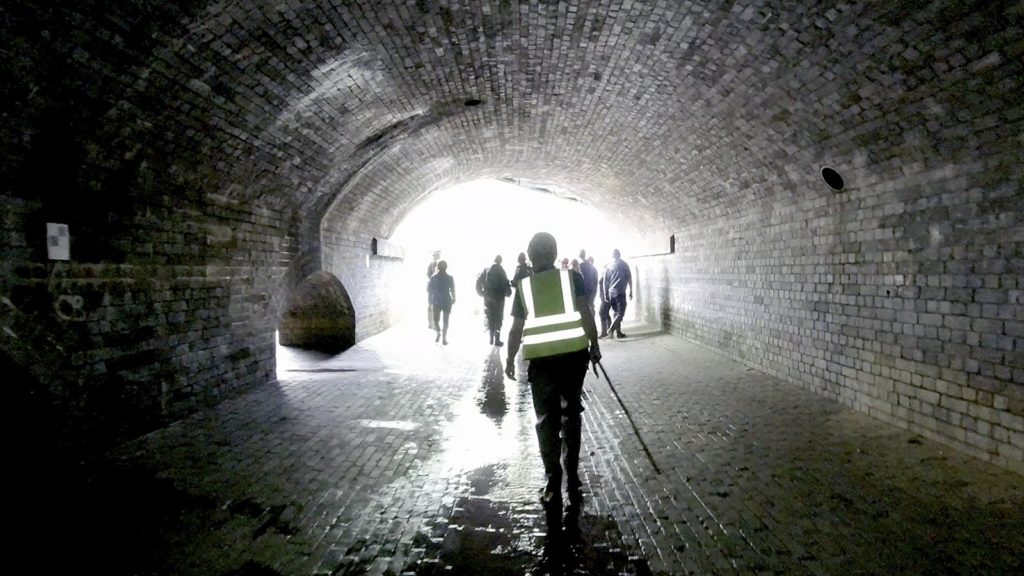 In one of our most popular Sheffield Guide videos, we took a look at a network of tunnels beneath the city centre, culverted rivers and the infamous Megatron storm drain.
Filmed before lockdown during an incredible tour hosted by the brilliant Sheaf and Porter Rivers Trust, this was an unforgettable experience… for many reasons (not least having a minor panic attack in one of the narrow tunnels!).
Such an interesting view of the city, which reveals some amazing history. Everyone should give this one a watch!
READ / WATCH: Sheffield's Secret Tunnels, Hidden Rivers and 'The Megatron'
---
4. Mardy Bum T-Shirt
The Sheffield Shop part of the website was born as a creative outlet, a way for people to visibly celebrate the city and a means to support the website to grow.
Without the Sheffield Shop, the website wouldn't be able to exist, nor would I have gotten through this weird year. So, each and every sale is so important and so very much appreciated.
Our fourth most visited website page is a T-Shirt homage to a local saying made famous worldwide by Sheffield Sons, Arctic Monkeys. One for every Mardy Bum out there…
VIEW: Mardy Bum T-Shirt
---
3. Greasy Vera's
Another historical look at a Sheffield Institution.
Greasy Vera's at Neepsend was a destination for many after a night on the town. Fond memories remain of meeting friends and eating the infamous Cheggburgers at this little unassuming blue van on the edge of the City Centre.
READ: Greasy Vera's: Sheffield's Ultimate Late Night Sandwich Bar
---
2. Five Sheffield Businesses Closed Due To Covid-19 Breaches
As restrictions came into force across the city, a number of businesses ended up on the wrong end of enforcement notices closing their doors, and made our second-most popular article of the year.
Thankfully the businesses all appear to have righted any breaches and reopened… well, before many had to close again as more lockdown restrictions took hold.
See also, our rundown of pubs that closed their doors for good during the first lockdown (some have reopened since, but we lost some good ones permanently).
READ: Five Sheffield Businesses Closed Due to Covid-19 Breaches
---
1. The Hole in the Road
And here is your top article of 2020!
Our look at The Hole in the Road details the short history of the fondly-remembered Castle Square landmark.
From the area's beginnings as Sheffield's Market Place to 1960s modernisation of the City Centre (and plans for a 'Japanese-style subterrainian shopping centre') right through to it's demolition; our in-depth look at the Hole in the Road struck a nostalgic chord for many of you.
READ: The Hole in the Road: A Beloved Lost Landmark
---
Thank you so much for your support
All that remains now is to thank you all for your support during 2020. Whether you simply read an article, watched a video or liked one of our social media posts; it means so much.
Every single share of our posts, comment on our content or purchase of a Sheffield Shop product means an incredible amount and really does keep things going more than you can possibly imaging.
I appreciate all of your support — small or large — and thank you again for showing how the community spirit of "the biggest village in the world" is so special.
Here's to a better 2021 and beyond!
---
Discover the very best of the Steel City with The Sheffield Guide Newsletter!
Sign up now to receive occasional updates from The Sheffield Guide. All the latest Steel City information direct to your inbox!
Free to subscribe. No-spam guarantee. Unsubscribe at any time.